RAMPART CASINO ANNOUNCES FOOTBALL SEASON GAMING, DINING OFFERS
FOR IMMEDIATE RELEASE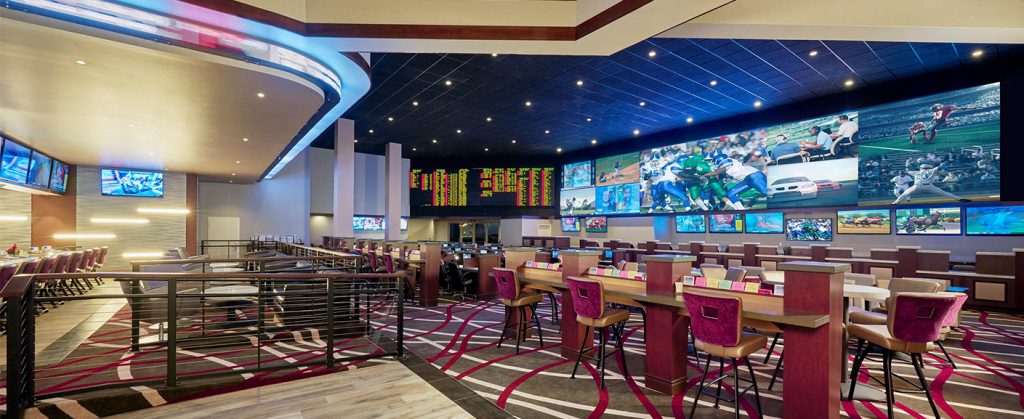 Pictured: Race & Sportsbook at Rampart Casino.
(Photo Courtesy of Rampart Casino.)
RAMPART CASINO ANNOUNCES FOOTBALL SEASON GAMING, DINING OFFERS
Click Here For Downloadable, High-Res Photos
LAS VEGAS (August 2023) – With the 2023 professional football season quickly approaching, Rampart Casino invite guests to take advantage of September's football gaming and dining offers*, including Monday night football hot seats, beer specials, weekly drawings and more. The full roster of football promotions follows.
RACE & SPORTS BOOK PROMOTIONS
Football Wagering Promo Through Super Bowl
Guests visiting Rampart Casino's Race & Sports Book are invited to place any parlay card wager for $50 or more to receive the choice of either a coupon to the Clubhouse Deli for complimentary chicken fingers, a hamburger or a hot dog meal or a coupon for $5 off brunch at the Market Place Buffet. Wagers may be combined to receive one coupon. This offer cannot be combined with other coupons.
Weekly Sports Book Drawing Tuesdays
During all 18 weeks of football season, guests can earn 1x ticket for any straight bet, 2x tickets for any teaser or parlay or 5x tickets for any parlay card wager. Drawings take place Tuesdays at noon and winners will be announced by 1 p.m. Guests are not required to be present to win. First place will receive $500 in cash, second place will receive $300 in complimentary slot play and third place will receive $100 in complimentary slot play.
Season-Long Parlay Card Contest
This football season, one winner with the highest parlay card payout for the season will win $500. The contest is for parlay card winners only and participants must have a Rampart Rewards card when placing bets. The contest winner will be determined at the end of the regular season on Jan. 8, 2024. The total to beat will be updated weekly on Tuesdays.
Rampart Casino Sports App
Guests signing up for a new account on the Rampart Casino Sports App will receive $25 of complimentary slot play.
CASINO ACTIVATIONS
September Monday Night Football Hot Seats
On Monday, Sept. 11, 18 and 25, guests are invited to catch the game on all screens with sound. Rampart Casino will also offer $100 prizes of free slot play every 15 minutes for slots and table game players from 5 to 9 p.m. on these dates.
$45,000 Touchdowns, Tackles and Cash Drawings
Every Sunday from Sunday, Aug. 27 to Sunday, Sept. 24, guests are invited to swipe at the kiosk between 3 and 5 p.m. to enter the weekly drawing held at 5:15 p.m. in the casino. 100 points from slots or bingo equals one entry and one hour at $10 average at tables equals one entry. On game days during Mondays, Thursdays and Sundays, there will also be 10x drawing entries. A bonus drawing will also take place on Sunday, Sept. 24 at 6:30 p.m. One winner will receive a grand prize VIP package, including tickets to the Raiders vs. Los Angeles Chargers game on Thursday, Dec. 14, food and beverages and limousine transportation. Nine additional winners will receive $250 each in free slot play. The drum will be emptied after each drawing and guests must be present to win.
DINING OFFERS
Beginning on Thursday, Sept. 7, the following food and beverage specials will be available:
Drink Specials at High-Limit Bar, Round Bar, Race & Sports Book Bar and Summerlin Bar
$2 draft beers
$3 bottles of beer
$15 bucket of six bottled beers
$4 Bloody Mary and more
Hot Dog Cart
Located next to the entrance of the Race & Sports Book, the hot dog cart will offer a variety of regular and specialty hot dogs starting at $3.50. As the ideal destination to grab a quick bite to eat before or during football games, the cart will be open Mondays and Thursdays from 4 p.m. to 8 p.m. and Saturdays and Sundays from 11 a.m. to 7 p.m.
Market Place Buffet Tailgate Menus
Every Thursday during football season, the Market Place Buffet will offer guests a mouthwatering tailgate menu with game day-inspired dishes during dinner service. Visitors can also view the game while dining at the buffet. Guests 13 and older can dine at the buffet for $25.99 with a Rampart Rewards Card or $30.99 without a card. Guests under age 12 are $17.99. The Market Place Buffet is open on Thursdays 11 a.m. – 2 p.m. for lunch and 4 p.m. – 8 p.m. for dinner.
*Visit Rampart Rewards Player's Club for complete details for all promotions.
In addition to the wide variety of gaming options at the Rampart Casino, players also enjoy an excellent rewards program. By signing up for the Rampart Rewards Players Club, guests can earn and redeem points for cash, free play, complimentary meals, entertainment, merchandise, and rooms at the JW Marriott Las Vegas. Club members must be at least 21 years of age. Learn more atwww.TheResortAtSummerlin.com. Guests can now use the Rampart Rewards App to make hotel reservations, view point balances, and make plans to dine at one of the property's signature restaurants. The Ramparts Rewards App is available on both Google Play and the Apple App store. Management reserves all rights.
ABOUT RAMPART CASINO
Recently honored with six accolades from Strictly Slots Magazine's "Best of Slots" awards, the elegant 50,000-square-foot Rampart Casino offers more than 1,300 slot machines, two dozen gaming tables, a 300-seat Bingo Room and a Race & Sports Book. Rampart Casino's Rampart Rewards club program offers exclusive resort benefits and rewards based on play, including dining, spa and golf discounts as well as complimentary room nights at the JW Marriott Las Vegas Resort & Spa. For the latest Rampart Casino news, follow on Facebook, Instagram and Twitter. Contact the casino at (702) 507-5900.
MEDIA CONTACTS
Vanessa Thill, Erika Pope
The Vox Agency
vanessa@thevoxagency.com, erika@thevoxagency.com
(469) 226-4723, (702) 249-2977
#      #     #