Presidents' Day 2 for 1 Buffet
Las Vegas Restaurant Special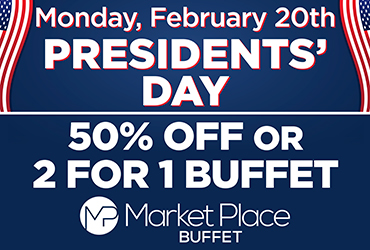 50% off or 2 for 1 Buffet
Market Place Buffet
In honor of Presidents' Day, Marketplace Buffet offers 50% off or 2 for 1 buffet with your Rampart Rewards card on Monday, February 20, 2022.
Must earn 50 same-day points & swipe at the kiosk for voucher to receive promotion.
Buy One and Get One Free Buffet OR Get 50% Off One Buffet all day
Lunch served 11 am – 3 pm
Dinner served 3 pm – 8 pm
The full price for the January 20th Buffet is $30.99 all day.
MORE DETAILS