Pirate's Treasure Progressive Drawings
Las Vegas Casino Promotions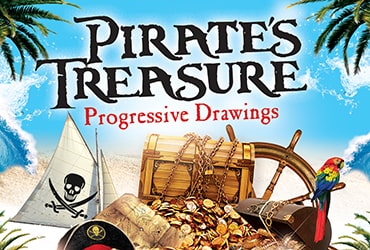 Now up to $6,000!
Casino Floor
Ahoy, ye mateys! You'll want to steer your ship to the Rampart Casino for your chance to win in our Pirate's Treasure Progressive Drawings. Win your share of the Mega Cash prize pool with a shot at the progressive grand prize, now up to $6,000! We'll increase the progressive jackpot $1,000 every month it doesn't hit until someone wins. Earn your monthly drawing entry when you earn 2,000 base points in the previous month playing with your Resort Rewards card, then swipe at the kiosk to activate your entry. Drawings are the last Wednesday of each month. Ten winners at each drawing, held at 6:15 & 8:15 pm for a total of 20 winners each month.
Visit the Resort Rewards Club for complete details and to see if you qualify.
Explore our website to keep up-to-date on all our promotions and events.
Follow us on Facebook, Instagram, and X to keep up with everything we have going on!
MORE DETAILS