Chicken Finger Basket
Las Vegas Restaurant Special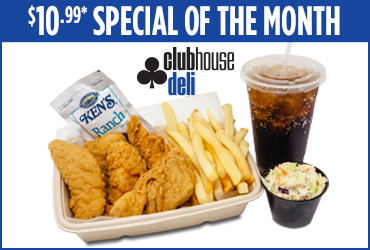 $10.99* Combo December Deli Special
Clubhouse Deli
Enjoy the Chicken Finger Basket combo meal deli special at Clubhouse Deli in December.
Chicken Fingers, your choice of: Plain, Mild, Hot, or BBQ.
Served with choice of Coleslaw, Macaroni salad or Potato Salad.
Comes with Fries, Ranch Dressing and a Drink.
*$10.99 with Rampart Rewards card. $13.99 price without card.
MORE DETAILS