Bistro Cheeseburger
Las Vegas Restaurant Special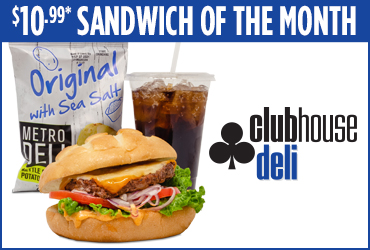 $10.99* Combo Deli Special - June
Clubhouse Deli
Enjoy the Bistro Cheeseburger combo meal deli special at Clubhouse Deli in June.
Char-broiled Beef Patty, Provolone & Cheddar Cheese, Lettuce, Tomato and Red Onion with Clubhouse Bistro Sauce, served on a European Style Roll.
Served with chips and a drink.
*$10.99 with Rampart Rewards card. $13.99 price without card.
MORE DETAILS