A Perfect Picnic Day – April Gift Giveaway
Las Vegas Casino Promotions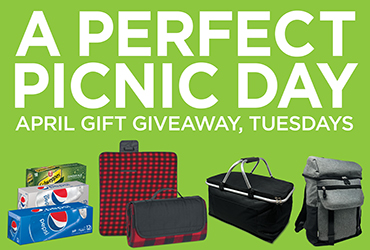 Tuesdays in April
Casino Floor
Rampart Casino offers the best Las Vegas Deals. Earn 300 base points between 3 am and 7 pm each on April 4, 11, 18 & 25, 2023 to receive a gift, or $10 average bet or equivalent per hour (minimum 2-hours of play) in table games for one gift. Limit 2 gifts. While supplies last. Check the rules for details.
April 4, 2023 – 12-Pack Pepsi Products
(choice of Pepsi, Diet Pepsi, or Schweppes Ginger Ale)
April 11, 2023 – Picnic Blanket*
April 18, 2023 – Picnic Basket*
April 25, 2023 – Cooler Backpack*
*Gifts available in assorted colors.
To stay up-to-date on all our promotions and events explore our website often.
Follow us on Facebook, Instagram, and Twitter to keep up with everything we have going on!
MORE DETAILS