$50,000 Boom Shakalaka Vegas Low Roller Drawings
Las Vegas Casino Promotions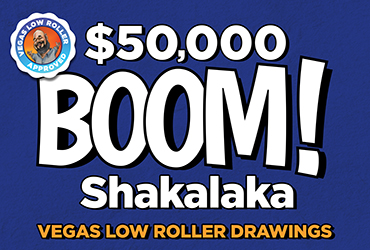 Qualifying Drawings Fridays & Saturdays in October 6:15 pm & 8:15 pm
Casino Floor
Play your favorite casino games and earn entries into our $50,000 Boom Shakalaka Vegas Low Roller Drawings every Friday & Saturday in October at 6:15 pm and 8:15 pm.
Earn 10x entries Monday – Thursday
Earn 20x entries every Sunday
32 winners every weekend win up to $10,000 plus have a chance to participate in @VegasLowRoller Group Slot Pull events on October 15 & 29.
Follow us on Facebook, Instagram, and X to keep up with everything we have going on!
MORE DETAILS