5-course Wine Pairings Dinner
Las Vegas Restaurant Special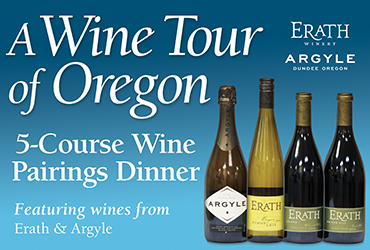 June 12, 6:30 pm. Get Your Tickets Now!
Parian Ballroom
Join us for A Wine Tour of Oregon with our 5-course wine pairings dinner.
Tickets are $99 per person plus tax and can be purchased at the Concierge Desk.
Featuring wines from Erath & Argyle.
Redeem your comps to attend this dinner.
Please RSVP with your Executive Casino Host or through the Concierge desk at 702-869-7803.
MORE DETAILS