$25,000 Lucky 8's Baccarat Tournament
Las Vegas Casino Promotions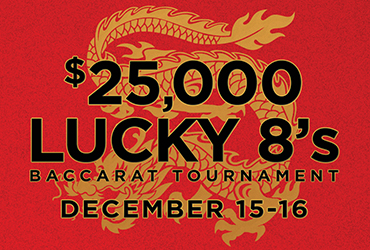 $25,000 Lucky 8's Baccarat Tournament
Cataluna
26 Winners share in the $25,000 prize pool with a top prize of $10,000
Play to earn your entry into the Baccarat Tournament!
Qualify by playing $100 hands for 20 hours beginning Friday, November 18 – December 15, 2023. Once you qualify, swipe at the kiosk to receive your tournament entry voucher.
VIP  Registration Friday, December 15, 6 pm – 8 pm in the Cataluna Room
A minimum of two exciting tournament rounds on Saturday, December 16 from 11 am – 6:30 pm
See the pit for details. Must be 21. Management reserves all rights.
MORE DETAILS