$150,000 Cars, Cash, and Free Slot Play Giveaway
Las Vegas Casino Promotions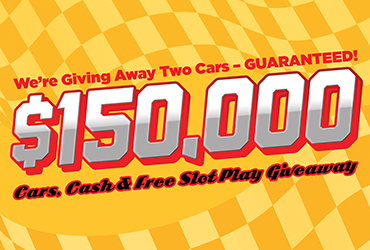 Qualifying Drawings Every Friday & Saturday at 6:15 and 8:15 pm - Grand Prize Drawings March 30 & 31 at 9:15 pm
Casino Floor
Our Las Vegas Casino is giving away two cars – guaranteed – in our $150,000 Cars, Cash & Free Slot Play Giveaway! Earn points to participate in the qualifying drawings every Friday and Saturday in March at 6:15 and 8:15 pm. 14 winners a night win up to $2,000 cash and automatically qualify for the Grand Prize Card Drawings on March 30 and 31. Earn 10X entries Monday – Thursday. Must be present to win.
Visit our website often to find out about all our current promotions.
Follow us on Facebook, Instagram, and Twitter to keep up with everything we have going on!
MORE DETAILS