$10.99 Hawaiian Steak & Shrimp Dinner
Las Vegas Restaurant Special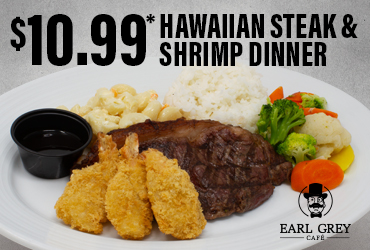 Served Daily from 11 am - 9 pm in March & April
Earl Grey Café
Beginning March 1st, $10.99* Hawaiian Steak & Shrimp Dinner is served daily from 11 a.m. to 9 p.m. with steamed rice, macaroni salad, seasonal vegetables and teriyaki sauce. Dine in only.
Add soup or salad for just $1.99.
*$10.99 with Rampart Rewards Card. ($16.99 without card – starting April 1st)
Follow us on Facebook, Instagram, and Twitter to keep up with everything we have going on!
For great dining deals, visit Promenade Cafe often to see what is new.
MORE DETAILS