MAIL SERVICES
Sending Mail
Ship pre-packed, pre-labeled packages at the Spa Front Desk Registration or Concierge desk. Regular shipping and handling fees will apply.
Purchasing Postage
Postage stamps are available for purchase at ourconcierge desk.
Receiving Mail
Guests staying at our Resort can receive mail throughout their stay. Occasionally, some Guests choose to ship items in advance of their vacation to help save luggage space.
If you intend to receive mail during your stay, all guestpackages being shipped to the property must follow theaddress label standards (illustrated below) to preventpackage routing delays. 
Please schedule your shipment(s) to arrive three days prior to check-in date to avoid additional storage fees. Use the name of the recipient who will be on-site to receive and sign for the package(s). If a package has not been picked up by the recipient and no contact information is provided,the package will be returned to the sender, who will beresponsible for all additional shipping fees. Packagedeliveries should only be scheduled after the recipient has completed the check-in process. Any packages not claimed after 14 days will be sent return to sender. Any package that can not be returned to sender will be turned into lost and found for 30 days.
Package Labeling Standards
JW Marriott Las Vegas
C/O GUEST NAME 
221 North Rampart Blvd.
Las Vegas, NV 89145
702-869-7777
Receiving Hours
Monday – Friday: 6 am – 2 pm, any deliveries after will be available next day, holiday hours may be modified.
 Upon Your Arrival
Packages will be available for pickup at the Front Desk;a handling fee will apply. Packages, pallets, crates, display cases and other heavier items may be scheduled for delivery by contacting our staff at 702-869-7777; a delivery fee of $8 will apply. Package deliveries should only be scheduled after the recipient has completed the check-in process. In order to maintain the proper chain of custody, we require the package recipient's signature before a package can be released from the Front Desk. Release signatures are captured at the time of package pickup or package delivery to the recipient. All guests must be present at the time of delivery of the package to any guest room. 
Please note that the below fees are per package handling fee will apply to all packages that are received through the Front Desk or are delivered to your hotel room. All charges will be charged to your room.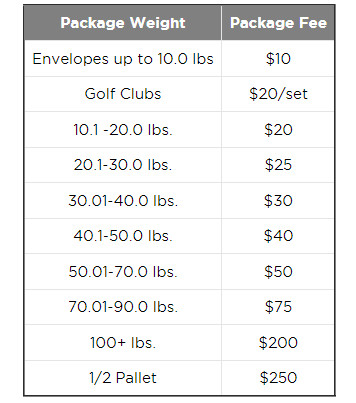 Getting Outside Orders Delivered to Your Hotel Room
Any deliveries not received through the warehouse aresubject to the hotel's policies and may be unavailable,limited or restricted. If the delivery service vendor requires age or ID verification, Guests are required to meet and accept delivery directly from the vendor; JW Marriott Las Vegas will not accept delivery of such orders on behalf of any Guest.