Hours: Open daily for dinner 5  – 10 p.m.
Happy Hour: 5 p.m. – 7 p.m. Tuesday – Saturday
Shizen is a Japanese Steak House and Sushi Bar with teppanyaki-style dining.
Enjoy the showmanship of the Shizen chefs at the interactive and entertaining teppanyaki tables where hot entrees are prepared before your eyes or sit at the expansive sushi bar indulging in the freshest seafood available.
We now offer a new dinner menu, featuring signature sushi rolls, noodle bowls, and gluten and carbohydrate-free shirataki noodles. A teppanyaki menu is available with selections ranging from steak and chicken to scallops, salmon and lobster. Prices range from $20 to $48 per person. Children's pricing is available.
Ask your server for our daily special!
Menu
All You Can Eat – Sunday & Monday
DINING SPECIALS AT SHIZEN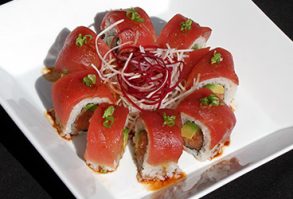 All-You-Can-Eat Sushi Sundays & Mondays!
$29 per person
No sharing and no left overs. Rice is part of Nigiri and Rolls please try to finish, we will charge for left over
MORE DETAILS