Rampart Bingo 4th Anniversary Celebration
Las Vegas Casino Promotions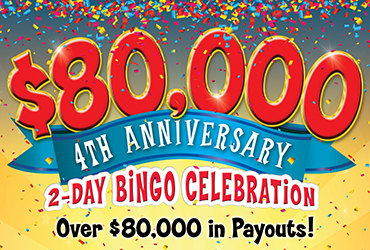 $80,000 4th Anniversary 2-day Bingo Celebration
Casino Floor
Rampart Bingo celebrates 4 years of Las Vegas Bingo fun. Join us for our 4th Anniversary Celebration at Rampart Bingo, May 26 and 27, 2018.
Every session includes:
4X $1,000 coveralls
Free hot dogs & chips
Free anniversary t-shirt on May 26th
Free tote bag on May 27th
All single winners receive $25 in free bingo
Enjoy the best Las Vegas Bingo in town! Visit RampartBingo.com often to find out about our latest promotions!
Follow us on Facebook, Instagram, and Twitter to keep up with everything we have going on!
MORE DETAILS